Televisions are more advanced than ever, but nearly all of them leave a black box on your wall or whatever place they are on. Samsung Frame TV hits a different note by eschewing the obnoxious black box in favor of a design that resembles a frame for displaying art or photographs. The art turns on when the television is turned off.
That is the Frame's allure, and in case you are wondering, it works like a 4K QLED TV should. That means brilliant colors, deep blacks, and a crisp image, as well as access to a variety of streaming services via Samsung's smart interface. In this Samsung Frame TV review, we have mentioned some features of the Samsung Frame TV.
Samsung Frame TV Features
Everything you need to know about the Samsung Frame TV is as follows :
Samsung Frame TV Design
Infinity Screen: The beautiful and gorgeous minimalistic design elevates your viewing experience to new heights of immersion and realism. You can focus on what you are watching thanks to a nearly invisible bezel.
Ultra-Slim:
The ultra-slim profile adds a touch of class to any living room. Its elegant form blends into the background, ensuring that the television does not take center stage. You can now confidently design your decor with a TV that will look great wherever it is placed.
Ambient Mode:
Ambient Mode matches the wall behind it, giving the impression that the TV is blending in. It can also display beautiful art, valuable information, or even current events.
Also, check out the features of the Samsung Ultra S22.
Samsung Picture Frame TV
Quantum processor:
The Quantum Processor is responsible for overall performance, intelligently adjusting the picture, sound, and other factors to provide you with a genuinely unforgettable viewing experience.
Screen Resolution:
Machine-learned algorithms help assess each scene of your content, from color and texture data to lighting and contrast details, using AI upscaling (4K and 8K). AI upscaling can enhance the image to the full resolution of QLED TVs, even if the source quality of your material is lower resolution.
Adaptive Image:
Regardless of how the light changes around you, QLED TVs intelligently sense ambient brightness and adjust TV settings to ensure optimal brightness and contrast. Simply relax and let QLED take care of the rest.
Upgraded Neo Quantum processor:
Samsung's Neo Quantum CPU has been updated, bringing improved audio and visual enhancing features to the entire line. Certain 4K and 8K Neo QLED models will get a refresh rate jump from 120Hz to 144Hz, as well as a 12-bit to 14-bit backlight brightness gradation.
There will also be a new Shape Adaptive Light Control function to improve brightness accuracy, as well as Object Depth Enhancer software to improve depth perception.
Samsung's Object Tracking Sound technology is still available, with a new version called Object Tracking Pro that adds up-firing speakers to let the TV's audio move in sync with the image on the screen.
Samsung TV Frame Audio
OTS (Object Tracking Sound): Sound moves more dynamically than it has ever been with OTS, as it tracks the movement of an item on screen for a totally lifelike, three-dimensional sound experience.
Active Voice Amplifier: AVA detects potentially distracting noises in your environment and boosts the loudness and clarity of dialogue so you never miss a word.
Adaptive Sound: QLED examines each scenario in real-time to determine and improve sound settings. Speech, music, and ambient sound are all tailored in real-time to fit the content you are watching.
Additional Features
Customizable Bezels
To fit your surroundings, Samsung's The Frame TV allows you to choose from two distinct color bezels. To fit your room's specific needs, you can choose between White and Teak. Because of the bespoke bezel design, you can match the TV to almost any interior style, giving your home a classy appearance to your visitors. Installation of the magnetic bezels is a breeze.
Motion Sensor
The Frame TV 2021 from Samsung is jam-packed with cutting-edge technology that will enhance your viewing pleasure. The Motion Sensor on the Frame TV 2021 detects your presence and immediately transforms the TV into artwork. It will switch off the TV when you leave the room to conserve electricity.
Multi-View
With your The Frame TV 2021's MultiView feature, you may watch two screens at once. You can quickly connect your smartphone to your TV, change the video size and audio settings, and take control of what you want to view without missing anything. When you are using your smartphone for workouts and viewing your favorite TV show at the same time, this feature comes in handy.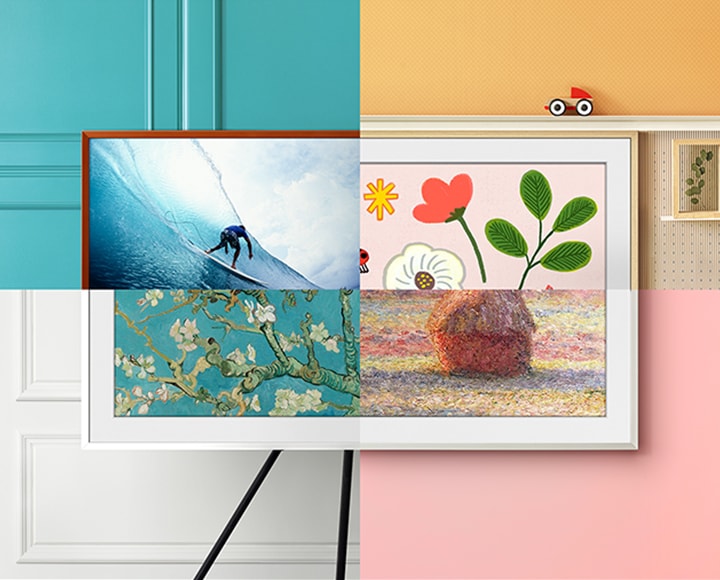 Screen Sharing
On your Samsung Frame TV 2021, Tap View gives you a better visual listening experience. When you are listening to music on your phone, simply tap the TV, and the music will immediately move to the TV speakers, along with beautiful Music Wall visualizations on the screen.
Free art for Samsung Frame TV
The TV's Art Mode is something that makes it a monster. Anyone can subscribe to the Art Store for $49.99 per year or $4.99 per month and gain entry to over 1,000 works of art, ranging from paintings to pictures and everything in between. While you will be given a free week to try it out, we believe it is worthwhile to purchase.
Samsung TV Frame Price
This best buy Samsung frame tv features a really cutting-edge design that not only provides warmth but also adds value to your home, as well as a fantastic 4K display and unique Art Mode capabilities.
It comes with a starting price of $999 for a 43-inch panel and an extra $100 for a frame bezel. Samsung's The Frame starts at $999 for a 43-inch screen, $1,299 for a 50-inch screen, $1,499 for a 55-inch screen, $1,999 for a 65-inch screen, and $2,999 for a 75-inch screen. The bespoke bezels cost between $99 and $199 depending on the size.
FAQs
On a Samsung smart TV, what is the best approach to display a continuous photo slideshow?
If you want a simple looped slide show, simply load the.JPGs into the USB's main directory, select USB as the TV's input and push Play.
Does the Samsung Frame TV have multiple built-in assistants? 
Samsung has teamed up with the most popular personal assistants to make your smart home a seamless experience. With QLED, you can use Bixby, Alexa, and Google Assistant. Bixby can make show recommendations, perform quick searches, and operate linked devices, among other things. With your voice, you can control your TV.
Change the channel, open applications, search for movies and shows, control your smart home devices, and more by asking Alexa. Locate and enjoy your preferred entertainment with ease by Google Assistant.
What is the power source for the Samsung frame TV?
You do not need an electric outlet behind the TV because the cable transmits both your video signals and power. The charcoal bezel is standard on the Frame TVs.
Bottom Line
The Frame TV 2021 comes with a slew of unique technologies that will not only enhance your viewing pleasure but also make your life easier. In this article, we have gone over all of the features of the Samsung Frame TV. In the end section price of Samsung frame tv is also mentioned.